Protection for the Road Ahead
Bedliners are a need, not an accessory, because every truck owner needs the best tool to get the job done right. TOFF gives your truck a clean, finished look and lasting protection so you can get the most out of what makes your truck a truck, fearlessly. No matter where your journey takes you, TOFF is behind you at every turn to keep you worry free, guaranteed.
• Unparalleled Impact and Abrasion Protection
Our state-of-the-art polyurethane/polyurea hybrid coating boasts the industry's leading hardness and tensile strength. In layman's terms, no load is too tough for TOFF.


• The Most Chemically Stable Bedliner
TOFF brings our passion for chemistry to life. Our bedliners have been formulated to age slower, retain color and withstand the harshest heat and humidity.
• Lasting Durability and Functionality
TOFF is engineered to maximize your truck bed with a custom fit that eliminates the chance of corrosion, while reducing cargo movement, load noise and vibration.


• First and Only Renewable Bedliner
TOFF is focused on the sustainability of our products. We proudly offer the only spray on bedliner made from renewable resources that are free of VOC's.
• Unmatched Chemical Resistance
TOFF Spray On Bedliners were developed to withstand most common chemicals that can spill on your truck during transport and cause the factory paint to stain or corrode.


• Cutting-Edge Chemistry and Testing
TOFF's chemistry combines the right amount of hardness, strength and adhesion that work together to provide truck owners with lasting bed protection.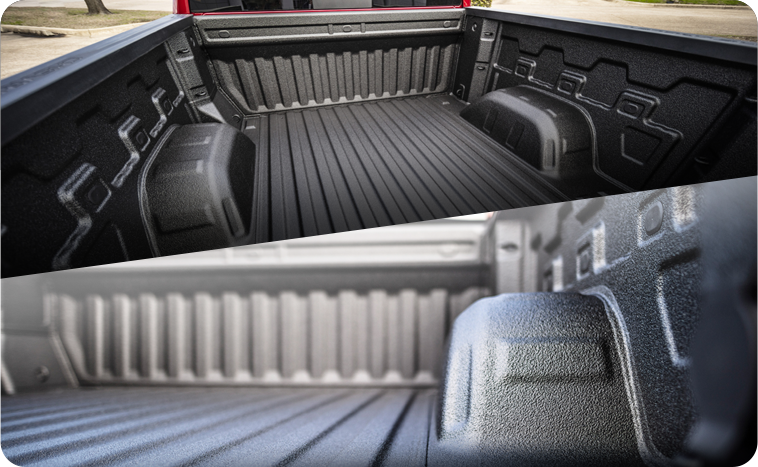 TOFF Bedliners at Cavender Auto Country | 1700 IH-10 East, Weimar, TX 78962                                                            Back to Top 
---